Creative Media Production Diploma Level 2
Level
Level 2

Duration
1 year

Start Date
September 2024

Venue
Paston College

Course Code
A0411
Start Date
September 2024, Full Time
Summary
The Pearson BTEC Level 2 in Creative Media Skills is a one-year course equivalent to three GCSEs. It is aimed at learners who are looking to study creative media as a one-year, full-time course or for those who feel they are not quite ready for the Level 3.
Whilst studying on the course you will create and explore a variety of different media. This includes film making and using digital audio editing software as well as page designing for print media. This is underpinned by theoretical knowledge. You will be introduced to the basics of camerawork, visual narrative and audio and visual editing. You will also be introduced to print media, which is still an integral part of the modern creative media industry.
The Creative Skills qualification has a strong aim to support progression to Level 3 and offers the opportunity to develop a range of Media skills and techniques, personal qualities and attitudes essential to be successful in the creative media industry.
Follow @Pastonmedia on Twitter and Paston Media on Youtube for updates and examples of current student work
Entry Requirements
Minimum four GCSEs grades 9-3, including English Language and Maths 9-3. This programme is designed for students who just miss our entry requirements for Level 3 study. It includes an opportunity to improve your GCSE English Language and Maths grades. Candidates will be invited for an interview prior to selection, and you will need to provide a reference.
Learning Outcomes
To simplify the qualification, all teaching and learning content and assessment have been designed around five fundamental skills areas. Each module has a straightforward structure that clearly connects the assessment objectives, teaching content and assessment criteria:
Five assessment objectives 1. Investigation 2. Communication 3. Practical Skills 4. Development 5. Approach
Assessment
Assessment units are each marked against five criteria, which are graded on a scale of Distinction, Merit, Pass and against the following Assessment criteria:
A: Exploring and Developing Creative Media Skills
A1: Skills Development Exploration of the fundamentals of creative media practice, learning how skills are integrated to create work.
A2: Creative Media Project Application of creative practices to develop a full creative media project.
B: Personal Development
B1: Personal Development Exploration of roles within the creative media sector and further development of the skills needed to progress towards personal aims
C: Responding to a Creative Brief
C1: Responding to a Creative Brief. Production of a proposal and practical response to a creative brief, managing the project from inception to communication of outcomes.
Progression
Successful completion of the Level 2 Creative Media skills along with a grade 4 in GCSE English Language will provide direct entry onto the BTEC Level 3 Extended Diploma in Creative Media.
Career Progression
The course is designed so students' progress onto our Level 3 Creative Media Production course. However, for those students who choose not to pursue careers within the creative industries, the course provides fantastic opportunities to develop collaborative working skills, problem-solving, creative and the higher order evaluative skills demanded by universities and employers.
Fees
If you are a UK or home fee status student and aged 16-18 on the 31st August before the start of your course, tuition fees are free. If you are aged 19 and over fees may be payable.
Latest News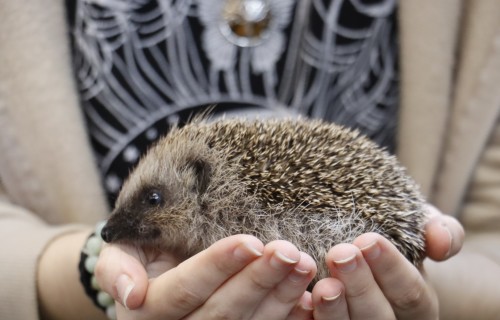 A group of T Level Management and Administration students are leading efforts to make Paston College a hedgehog friendly campus.
Read more
6th November 2023