Level
Level 3

Duration
2 years

Start Date
September 2021

Venue
Paston College

Course Code
S9404
Start Date
September 2021, Full Time
Summary
Business provides students with a unique insight into the world of work. Through its study, students discover how businesses operate and learn about their key elements and essential business functions. It offers an excellent foundation for those wishing to pursue careers in management, marketing, project management, business accounting, management consultancy, human resources and business journalism, as well as those interested in continuing on to further study. On this course you will study business in a variety of contexts, e.g. large, small, UK focused, global, service and manufacturing. You will look at how businesses make decisions, the competitive environment, external influences such as ethical and environmental decisions, how technology is changing the way businesses operate and how statistical data and figures help businesses make decisions.
You will learn about financial performance, human resources, leadership, marketing, operations, and managing strategic change.
If you enjoy using figures and statistics, looking at the bigger picture and the business world in a more analytical sense and evaluating the impact business theories can have on the business environment, then this course is for you. Students who enjoy problem solving and expressing their views through debating should consider this Business course as an option of study.
Modules include:
What is business?
Managers, leadership and decision making
Decision making to improve marketing performance
Decision making to improve operational performance
Decision making to improve financial performance
Decision making to improve human resource performance
Analysing the strategic position of a business
Choosing strategic direction
Strategic methods: how to pursue strategies
Managing strategic change
Entry Requirements
Please note: Business A level cannot be taken with BTEC Business. Additional entry requirements for this course: English Language GCSE new grade 4 (or old grade. New grade 4 in Maths GCSE (or old grade C) an advantage
Assessment
There is no coursework and all assessment is in the form of written exams. All three exams are sat at the end of the second year and are two hours each.
Progression
Students go on to university to study courses as diverse as Accountancy, Law, Business, Marketing, Human Resources, Event Planning, Management as well as joint courses combining Business with, for example, a language.
Career Progression
Students also use the Business course to lead into Apprenticeships and career opportunities in areas such as; retail, customer service, banking, sales, marketing, administration and becoming an entrepreneur. Business can be applied to any career choice as it studies the working world.
Fees
If you are a UK or home fee status student and aged 16-18 on the 31st August before the start of your course, tuition fees are free. If you are aged 19 and over please contact the Advice Shop.
Latest News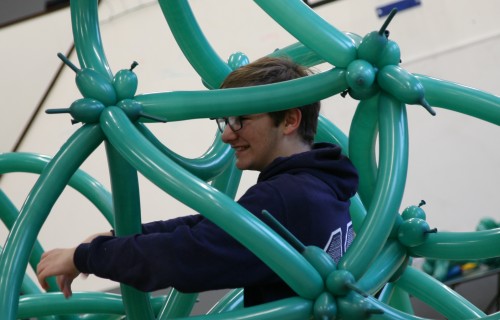 A group of A Level students who successfully created a 5 metre high 3D fractal made from modelling balloons now have their sights set on a World Record attempt.
Read more
13th January 2020