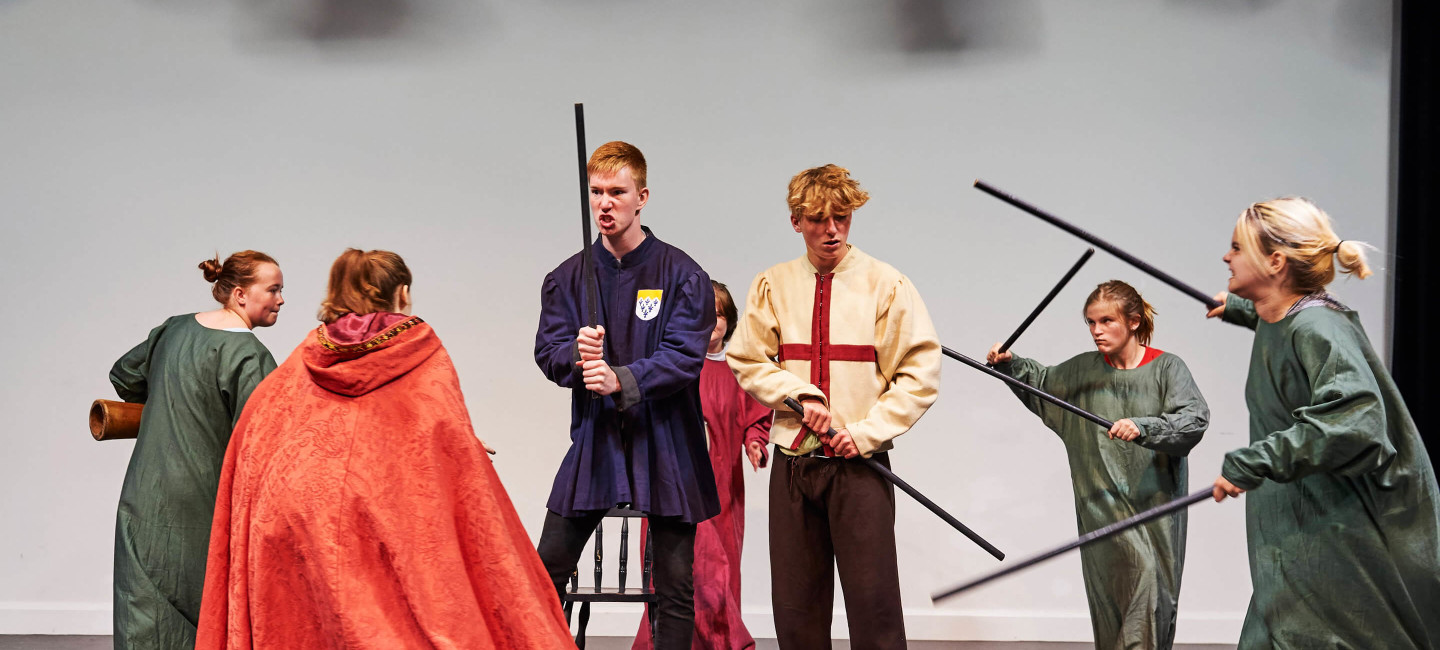 Drama & Theatre Studies GCE Linear A Level
Level
Level 3

Duration
2 years

Start Date
September 2019

Venue
Paston College

Course Code
S0749
Start Date
September 2019, Full Time
Summary
This is a heavily practical course that is ideal for those who are passionate about performance. This subject is an excellent choice for those who are looking to progress on to further study at university or drama school. It is also a great way to develop a range of transferable skills for the world of work.
You will explore a variety of topics and will focus on a range of modern and classical texts and plays such as Steven Berkoff's Metamorphosis and Dario Fo's Accidental Death of an Anarchist. You will learn techniques to help further enhance your performance skills and will take part in a range of live performances throughout the year.
You will be taught in the College's new, purpose built 150 seat Griffon Theatre by Drama specialists who have worked, or are currently working, in professional theatre in various capacities. You will also have the opportunity to join Paston's student theatre company Far East which stages two or more major productions every year. Alongside this, you will have opportunities to get involved in professional work related opportunities through our close links with local theatres, such as Sheringham Little Theatre and St. Georges Theatre in Great Yarmouth, and local and national theatre companies such as fEAST, Single Shoe and Improbable Theatre.
Why Our College?
Outstanding facilities
Hone your skills and perform in front of live audiences in our recently developed 150 seat Griffon Theatre
Gain industry experience and connections
You'll gain valuable work related experience through our close links with local theatre companies and industry professionals
Hands on learning
This is a practical course that is ideal for those who are passionate about performance
Entry Requirements
3 A Level Programme
Minimum of 2 6/B grades and 3 4/C grades at GCSE. Vocational subjects cannot replace GCSEs for entry to an A Level programme.
You must also study English Language and/or Maths GCSE if you have not already achieved a minimum of grade 4/C in these subjects.
4 A Level / A+ Programme
This programme is only available to students who achieve a minimum of 3 GCSEs at grade 8/A* plus 5 at grade 7/A and a minimum of grade 4/C in English Language and Maths.
Assessment
You will be assessed through written coursework, a written exam and a range of monologue, duologue and group performances.
Progression
You can progress onto to study drama and performance at universities such as Leeds, Kent, Hull, Lancaster, Warwick and Bath Spa. You could also look to train at drama schools such as East 15, LAMDA and Rose Bruford to study acting, musical theatre or stage management courses. This course is well regarded by many employers and a good A Level subject for careers involving contact with people such as teaching, journalism, TV, radio and performance. Former students have achieved places in the National Youth Theatre and Youth Music Theatre UK.
Fees
If you are a UK or home fee status student and aged 16-18 on the 31st August before the start of your course, tuition fees are free. If you are aged 19 and over please contact the Advice shop.
Latest News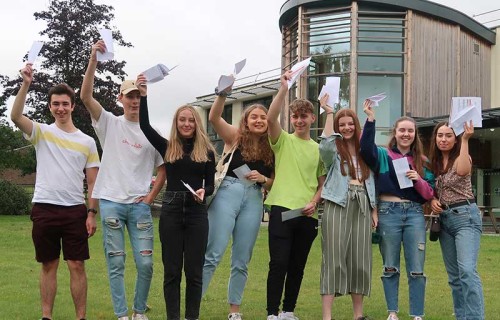 There were smiles all round our Lawns campus on A Level results day as over 300 students celebrated their achievements and collected their exam results.
Read more
15th August 2019