Level
Leisure

Duration
3 months

Start Date
Tuesday 10th September 2019

Venue
Paston College

Course Code
H0357
Start Date
Tuesday 10th September 2019, Part Time
Summary
This is a 10 week basic sewing machine course for complete beginners. Are you thinking of buying a sewing machine and would like to understand the terminology and features of a basic machine? There will be some classroom work on the best equipment that you'll need to purchase for a successful sewing room. The you'll move on to a complete basic sewing machine tutorial, what the different feet are used for, along with different seams and which is best to use for different fabrics/situations. Then you'll learn how to sew a buttonhole on a machine and how to insert a zip in to a piece of fabric before making a final sewn product.
Course will include Complete basic sewing machine tutorial, how to thread the machine, wind a bobbin, change a needle, change the bulb, tension explained, different tensions for different fabrics, trouble shooting tension problems, what the different feet are used for, different machine stitches, how to sew a buttonhole on a machine, how to maintain your sewing machine, etc,. Moving on to the different types of seams and the best times to use each, for example; plain seams with different finishes; pinked edge, zig zag edge, finished with binding, tuned with single hem, turned with double hem, then a welt, French and a flat felled seam. You will learn about interfacing, what it's used for, the different types and how to apply it correctly.
You will then move on to the different types of zips, how to put a coil/metal zip into garment with the teeth on show and how to do it with the teeth hidden under the seam, how to sew a concealed zip. into a waistband. You will then move on to constructing a collar and cuff sample before moving on to making a basic machine sewn product.
Duration: 10 weeks (10/09/19 - 19/11/19) exc.22/10/19
Time - 18:00 - 20:30
Day - Tuesday
Please bring an A4 ring binder and clear plastic pockets.
Entry Requirements
No formal entry requirements.
Learning Outcomes
Understand the workings of a basic sewing machine and trouble shoot basic problems. Recognise different seams and the best fabrics/situations to use them. Have a basic working knowledge of sewing terminology. Construct at least one basic sewn product, for example, a cushion, tote bag, makeup bag, apron with a pocket.
Fees
£130.00


Please note that courses may be cancelled if minimum numbers are not met. Please be aware that if you are no longer able to attend your course you will be offered an alternative date where available, however no refunds are available unless this course is cancelled by City College Norwich.
Latest News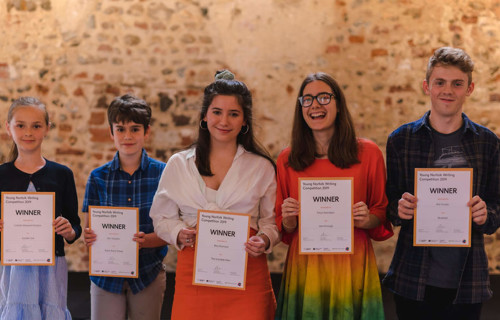 A Paston College student, Taryn Everdeen, was recently announced one of the winners of the prestigious writing competition. We caught up with Taryn to find out more about her songwriting process, and her plans for the future.
Read more
19th July 2019