Digital Photography for Beginners
Level
Leisure

Duration
2 months

Start Date
Tuesday 10th September 2019

Venue
Paston College

Course Code
H0339
Start Date
Tuesday 10th September 2019, Part Time
Summary
Learn to capture the world around you, understand your digital camera, and improve your photography skills with a Digital Photography Course at Paston College.

This brand new Digital Photography Leisure Course will assist the budding digital photographer by improving your skills with the basics of image making and enhancing your use of the main functions on your digital camera.

The course is designed for those who are relatively new to the use of an advanced camera who would like to know more beyond using the auto functions and will include:

composition & framing
lens focal length
shot angle, exposure
focus, aperture
shutter speed
ISO
white balance
colour space
lens choice
light metering
As well as improving understanding of the technical aspects, we will also explore the creative use of each of the above functions to further improve your photography skills.

After completing the course you should be able to confidently find your way round a Digital camera, know which settings are appropriate for each situation and understand how to correct any mistakes.

You must bring along your own digital camera (fully charged and with plenty of storage) to do this course. Ideally you should have your own digital camera that has adjustable settings. A DSLR or Micro 4/3 camera is perfect, but a Mirrorless camera or Bridge camera will be fine. If at this stage you do not own a suitable camera, a DSLR will be available to borrow during the course session but please note they cannot be taken off the premises.
Day: Tuesday
Time:6-.8.30pm
Please note that courses may be cancelled if minimum numbers are not met. Please be aware that if you are no longer able to attend your course you will be offered an alternative date where possible, however no refunds are available unless this course is cancelled by Paston College
Entry Requirements
No formal entry requirements
Learning Outcomes
After completing the course you should be able to confidently find your way round a digital camera, know which settings are appropriate for each situation and understand how to correct any mistakes.
Progression
No formal progression.
Fees
Please note that courses may be cancelled if minimum numbers are not met. Please be aware that if you are no longer able to attend your course you will be offered an alternative date where available, however no refunds are available unless this course is cancelled by City College Norwich.£120.00
Latest News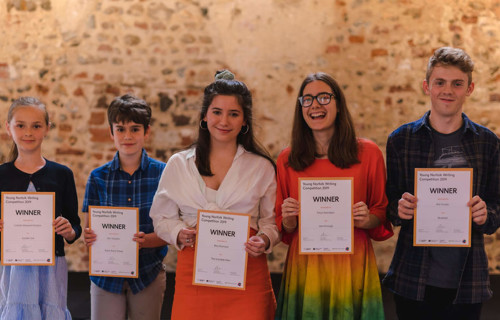 A Paston College student, Taryn Everdeen, was recently announced one of the winners of the prestigious writing competition. We caught up with Taryn to find out more about her songwriting process, and her plans for the future.
Read more
19th July 2019