Level
Level 3

Duration
2 years

Start Date
September 2022

Venue
Paston College

Course Code
S9413
Start Date
September 2022, Full Time
Summary
Psychology is a dynamic and ever changing subject that will see you analysing anything and everything you watch. If you are fascinated by people and how they behave, then consider studying psychology.
This course is taught by specialist, enthusiastic teachers who have a wealth of experience in helping students to achieve high grades and are skilled in making the subject not just interesting, but fascinating.
This course will give you a fascinating insight into this hugely popular subject. You will learn to design experiments, evaluate scientific research, use statistics effectively and deal with ethical issues. You will learn how Psychology can open up many career paths as this subject is not only useful for those interested in becoming health professionals, but also for those interested in a broad range of jobs involving the management of people.
You will have the opportunity to hear from guest speakers from the world of Psychology at our student conferences. You may also have the opportunity to attend a variety of psychology related events outside College. Last year our students saw Derren Brown's 'Miracle' show at the Theatre Royal Norwich. Alongside this, you will also have the opportunity to become one of the contributors or editors of Paston College's e-magazine, Psychology Bytes.
This course is perfect for those who have an inquisitive and open mind. If you're interested in understanding the influences that shape human behaviour and feel comfortable applying approaches from both the sciences and humanities, then A Level Psychology could be a great choice for you.
Psychology gives you experience of scientific theory, Maths, research skills, History and essay writing which means it goes well with a range of science and humanities based subjects.
Entry Requirements
3 A Level Programme
Minimum of 2 6/B grades and 3 4/C grades at GCSE. Vocational subjects cannot replace GCSEs for entry to an A Level programme.
Maths GCSE grade 5
and
English Language or Literature GCSE grade 5
Assessment
You will be assessed by three written exam papers at the end of the course that cover foundations in psychology, applications of psychology and psychological skills.
Progression
Psychology is an invaluable subject to have if you are looking to study a degree course because it combines aspects of science, arts and humanities. It is also an asset if you are aiming for the extensive range of careers where people are the focus such as journalism, nursing, marketing or HR management.
Fees
If you are a UK or home fee status student and aged 16-18 on the 31st August before the start of your course, tuition fees are free. If you are aged 19 and over please contact the Advice Shop.
Latest News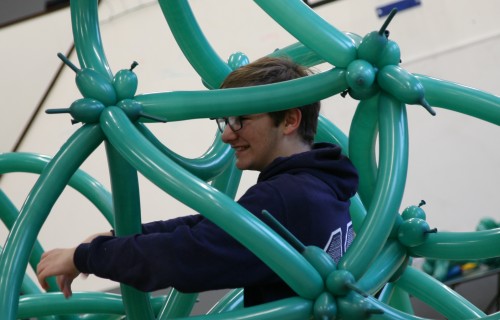 A group of A Level students who successfully created a 5 metre high 3D fractal made from modelling balloons now have their sights set on a World Record attempt.
Read more
13th January 2020