Religious Studies (Philosophy and Ethics ) GCE A Level
Level
Level 3

Duration
2 years

Start Date
September 2022

Venue
Paston College

Course Code
S9805
Start Date
September 2022, Full Time
Summary
"The great virtue of philosophy is that it teaches not what to think, but how to think...Philosophy is, in commercial jargon, the ultimate transferable work skill." (The Times, 15th August 1998) This course requires you to have an enquiring mind, an interest in controversial ethical issues and a desire to examine some of the biggest questions in the universe. You will be involved in learning about a range of engaging topics, many of which will be new to you and which will challenge your opinions and thinking. The course is split into two halves; Philosophy of Religion and Ethics. The Philosophy side of the course looks at the origins of the idea of God, whether it's possible that such an idea/being could ever exist (or ever not exist!) The Ethics side of the course examines questions about right and wrong, good and bad. How do we decide what the moral thing to do is in any given situation? We then go on to look at some controversial ethical issues such as genetic engineering, euthanasia and abortion. Philosophy and Ethics will help to develop skills of reasoning, analysis and communication that will be valuable in any path you choose to take.
Entry Requirements
3 A Level Programme
Minimum of 2 6/B grades and 3 4/C grades at GCSE. Vocational subjects cannot replace GCSEs for entry to an A Level programme.
English Language GCSE grade 4
Assessment
Assessment is through two written exams in each year, with formative essays set throughout the year.
Fees
If you are a UK or home fee status student and aged 16-18 on the 31st August before the start of your course, tuition fees are free. If you are aged 19 and over please contact the Advice Shop. Please check our Finance pages for information on loans, bursaries, fee information and student travel offers that are available. Alternatively please contact the Advice Shop.
Latest News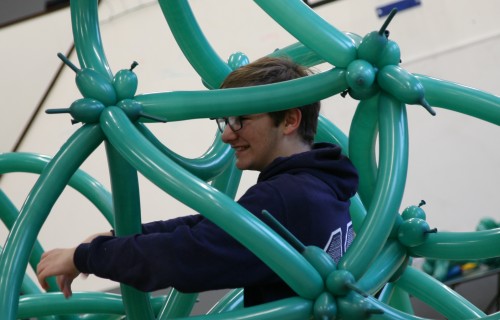 A group of A Level students who successfully created a 5 metre high 3D fractal made from modelling balloons now have their sights set on a World Record attempt.
Read more
13th January 2020