T Level: Education and Childcare (Early Years Educator)
Level
Level 3

Duration
2 years

Start Date
September 2023

Venue
Paston College

Course Code
A0422
Start Date
September 2023, Full Time
Summary
The purpose of this T Level qualification is to ensure that students have the knowledge and skills needed to progress in skilled employment or higher education. This qualification focusses on the study of education and childcare, offers breadth and depth of study, by incorporating a key core of knowledge and provided opportunities to acquire several practice and technical skills.
The level 3 technical qualification in Education and Childcare has 2 components –
1 - Core knowledge and understanding covers the core knowledge, understanding and skills relevant Education and Childcare. Such as:
Behaviour
Child Development
Equality and Diversity
Parents, families and carers
Safeguarding, health and safety and wellbeing
2 –Occupational specialism covers the knowledge, understanding skills and behaviours that is required to achieve competency. This will focus on early years education and childcare.
Support and promote children's play, development and early education
Develop relationships with children to facilitate their development
Plan, provide and review care, play and educational opportunities to enable children to progress
Safeguard and promote the health, safety and wellbeing of children
Work in partnership with colleagues, parents, carers and other professionals to support children's development
As part of this T Level programme you are required to complete an industry work placement in an Early Years setting where you will gain hands on experience in working within the sector, allowing you to put theory into practice and apply the knowledge that has been gained.
Entry Requirements
5 GCSEs grade 4 or above, including English language and maths
Successful completion of a Disclosure Baring Service (DBS) check
Assessment
Students will be assessed by External Examination, An employer set project and synoptic practical assignments.
Progression
On successful completion students can progress onto Apprenticeships, High education or Employment within Early years, primary/secondary teaching, teaching assistant.
Fees
If you are a UK or home fee status student and aged 16-18 on the 31st August before the start of your course, tuition fees are free. If you are aged 19 and over fees may be payable.
Latest News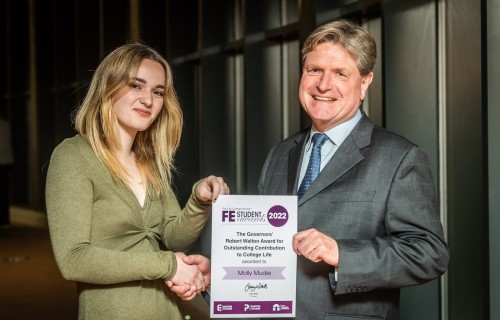 A winner of two of our Further Education Awards, Molly says that being at Paston College 'felt like home'.
Read more
2nd November 2022