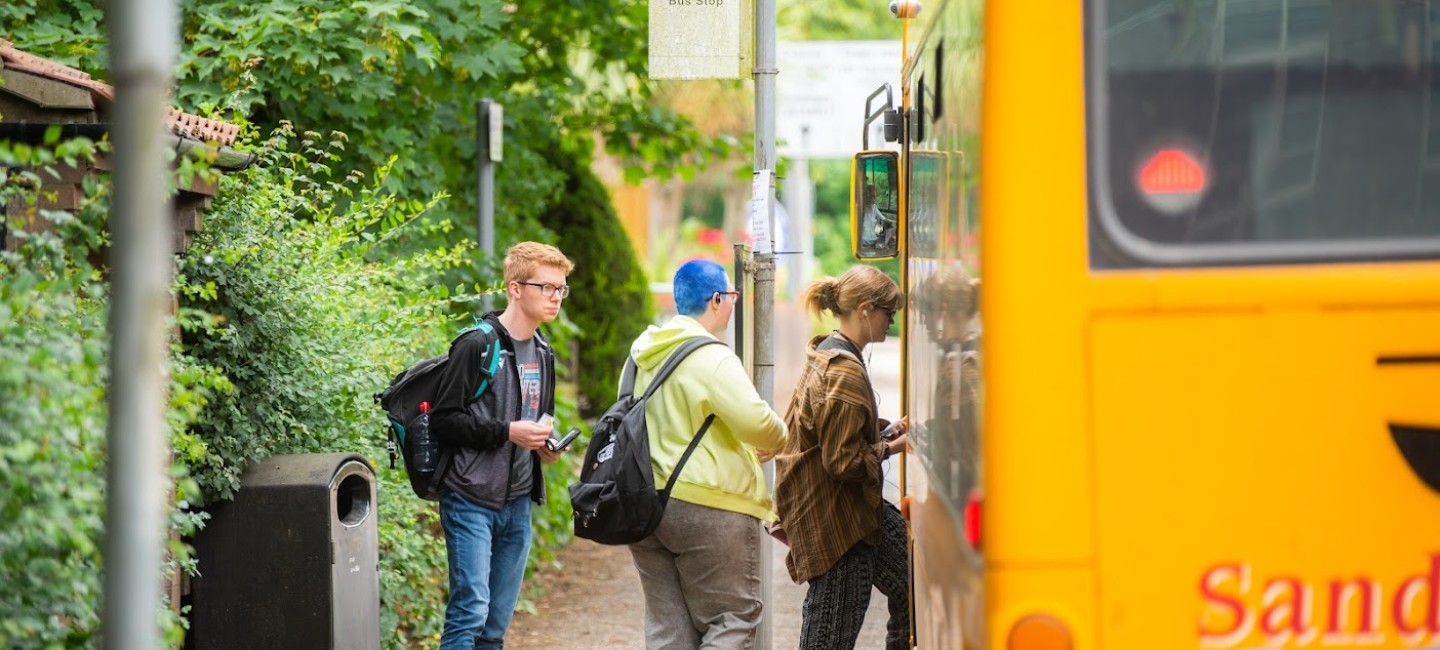 Travel Guide
Getting to Paston College is both easy and affordable. North Walsham is well served by both bus routes and train services.
---
Stay safe on Konectbus
Please remember that Konectbus are still advising all passengers to continue to wear face coverings when travelling on their services, unless exempt from doing so. Therefore, please remember to bring your face covering with you.
---
New timetables for bus routes are available from 12 April 2021: service X6 links Cromer, North Walsham and Great Yarmouth; service X55 links Mundesley, North Walsham, Coltishall and Norwich; service 210 links North Walsham with Badersfield (formally RAF Coltishall), Buxton, Frettenham, Spixworth and Norwich. Check the downloads for timetables.
---
Acle Bus
The bus service from Acle to Paston College will be available again from 6 September 2022 and will run throughout the academic year. A Norfolk County Council minibus will pick up Paston students in Acle, Kings Head at 08.08 and arrive in North Walsham, Park lane at 08.50. The evening bus leaves North Walsham, Park lane at 16.05pm, arriving in Acle, Kings Head at 16.44pm.
If you are planning to use this bus service you will need to contact Daniel Yellop at Norfolk County Council for a placement on the bus.
Travel from Roughton
If travelling from Roughton please use the bus service Sanders 18a. Pick up time is 07.50am at Roughton Chip Shop and goes via A140 to Hanworth Post Office then Aldborough.
Caister on Sea or Great Yarmouth
If you are travelling from Caister or Great Yarmouth, then we advise to buy a *Norfolk County Council bus pass using this link. Please choose Martham as your pick-up point. You will be able to hop onto a connecting bus** organised by the college, which will take you to an Ormesby pick up point, to get the Sanders 6 on to Paston College.
*You can choose either a daily rate payer ticket for £3.30 with Norfolk County Council or purchase a termly ticket with Norfolk County Council.
**Please call for further details.
Thetford or Sheringham
Please apply for a train pass through Norfolk County Council. Please contact Daniel.yellop@norfolk.gov.uk.
---
North Walsham train station
North Walsham train station is just 5 minutes walk from Paston College. It connects services from Norwich to Cromer, Sheringham and Runton on the coast.
Student travel discounts
Norfolk County Council Post-16 Transport Scheme
Students can make use of the Norfolk County Council Post-16 Transport Scheme if travelling to Paston by bus.
Greater Anglia 16+ Scholar ticket
Students can access reduced rail fares through Greater Anglia's 16+ Scholar ticket. Rail fares through may be cheaper than the Norfolk County Council subsidised rate, particularly from stations on the Norwich to Sheringham line.
16-17 saver railcard
Get 50% off train travel with a 16-17 saver railcard.
Travel from the "core" area
The core route area includes, for example, East Runton, Cromer, Aylsham, Stalham, Wroxham/Hoveton, Hemsby, Rackheath, Coltishall and Horstead. You can view a map of the core routes here.
Further information and details can be found on the County Council or college website. Travel from locations within this area is organised by Norfolk County Council and full details are available on their website. All buses stop near the College making journeys convenient and comfortable. Again please check rates linked to Greater Anglia's Scholar deals which might be more convenient.
A full annual payment for the Post 16 Transport Scheme is £574 for 2022-2023, with options to pay in termly instalments (please see link above) to offer flexibility and spread the cost.
Travel from outside the "core" area
Travel from North Norwich, Acle, Yarmouth, Sheringham and Holt areas is currently organised through Norfolk County Council. Find out more here
Travel to Paston from Norwich and beyond is easy with Greater Anglia's 16+ Scholar's tickets. As an example the current price (August 2021) for a 16+ ticket from Norwich to North Walsham is £746 per year, from Salhouse £509.10 a year and Sheringham £410 per year. Scholar's tickets are available for travel from a wider area, if you contact Greater Anglia they can advise on the cheapest option at the time.
Students from households with earnings of £24,000 or less can apply to the 16-19 bursary, and may be awarded help towards the costs of travel – see the online bursary application here.
Please note all the information applies to 2022-2023 only and will be reviewed for 2022-2023 in line with NCC changes.
Student car parking
Students can purchase a parking permit from the Advice Shop on the Lawns site. Student parking permits currently cost £50 if purchased during the Autumn term, £30 if purchased during the Spring term and £10 if purchased during the Summer term.
Got a question about student travel?
If you need advice on travelling to College or have a question about anything below get in touch with Tina Swann using the form below or on 01692 668113.
Contact the Student Transport Officer