English Language and Literature, GCE A Level
Level
Level 3

Duration
2 years

Start Date
September 2023

Venue
Paston College

Course Code
S9412
Start Date
September 2023, Full Time
Summary
This is a popular course that integrates the study of English language and literature. It is a dynamic and wide-ranging course that gives you the chance to develop your analytical and creative skills. It also allows you to apply linguistic concepts to literary texts and vice versa.
Throughout the course you will cover a range of fiction and non-fiction texts - while some of these might be familiar to you, others certainly won't be. You will develop your analytical skills and enhance your understanding of literary and linguistic concepts as we delve into the four different components of the course.
Component 1 is poetry & prose where you will study some classic British authors, such as William Blake, Christina Rossetti and Charles Dickens.
Component 2 focuses on drama where you will study a Shakespearean comedy and a post 1900 play.
Component 3 is non-literary where you will study spoken language and analyse the first ever non-fiction novel.
Component 4 is a genre-study where you will explore the world of Gothic fiction in detail. This final unit produces a coursework folder which will include both critical analysis and some of your own creative writing.
We frequently organise theatre and gallery trips. In recent years we have visitied London, Stratford, Sheffield, and Ipswich. Recent favourites have included a Mexican version of Much Ado About Nothing at The Globe, Hobbit star Richard Armitage in The Crucible at the Old Vic and Benedict Cumberbatch as Frankenstein's creature at the National Theatre. We also try to provide additional context when we study texts; most recently, we have conducted a Gothic Ghost Walk exploring the haunting tales surrounding Tombland in Norwich.
This is a diverse course covering all aspects of English. If you want to explore texts in new and exciting ways, challenge yourself to read something different or just want to explore English in more detail, this is the course for you.
Entry Requirements
3 A Level Programme
Minimum of 2 6/B grades and 3 4/C grades at GCSE. Vocational subjects cannot replace GCSEs for entry to an A Level programme.
English Language GCSE grade 4
Assessment
You will be assessed through examinations and a critical and creative coursework folder.
Progression
We have had students go on to a range of English based degree courses and careers including creative writing, journalism, screenwriting, teaching and speech therapy. However, this course provides you with a range of skills such as communication, analysis and written accuracy that are valuable for any future career path.
Fees
If you are a UK or home fee status student and aged 16-18 on the 31st August before the start of your course, tuition fees are free. If you are aged 19 and over please contact the Advice shop.
Latest News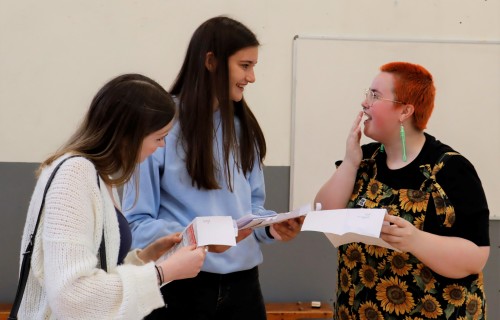 Paston College students have been celebrating impressive results in their A Levels, T Levels and other technical and vocational qualifications.
Read more
17th August 2023