English Literature, GCE A Level
Level
Level 3

Duration
2 years

Start Date
September 2023

Venue
Paston College

Course Code
S9410
Start Date
September 2023, Full Time
Summary
This course will allow you the enduring pleasure of exploring an exciting variety of literary texts from the seventeenth century to the present day. By reading a wide range of poems, novels and plays, you will learn the skills of close textual analysis, how to use evidence to support and develop arguments, and how to express ideas clearly and accurately.
You will undertake two examined units with each 2 ½ hour exam worth 40% of the final mark. The first, Drama and Poetry Pre-1900, involves the study of a Shakespeare play and a comparison of some poetry and a play.
For Shakespeare, we will study Twelfth Night, his final romantic comedy, which deals with the complications of love, assumed identities, gender confusion, cakes and ale.
For the comparison task, we'll do some work on the Victorian poet, Christina Rossetti, whose writing is strange and beautiful and deeply surprising . We will focus on 15 of her extraordinary poems, including the erotic and highly enigmatic 'Goblin Market', the only Victorian poem to have been published in Playboy. We look at these alongside John Webster's macabre tragedy The Duchess of Malfi (1614), a terrifying piece of writing about the consequences for a woman who tries to make her own romantic choices.
For the second unit, we will consider the way the immigrant experience has been represented in prose fiction, focusing on Mohsin Hamid's The Reluctant Fundamentalist, a disturbing and provocative post 9/11 thriller, and Jhumpa Lahiri's The Namesake, a family saga, looking at the effect of immigration on two generations of an Indian family transplanted to America.
You will also undertake a coursework unit (worth 20% of your final mark) for which you write two essays on literature post-1900. We try to give you some freedom to choose material for yourself; recent students have written about the poetry of Eavan Boland, plays by Caryl Churchill and Shelagh Delaney, and prose fiction by Sally Rooney and Bernadine Evaristo.
Entry Requirements
3 A Level Programme
Minimum of 2 6/B grades and 3 4/C grades at GCSE. Vocational subjects cannot replace GCSEs for entry to an A Level programme.
English Language GCSE grade 4
Assessment
You will sit two exams, both 2.5 hours in length and each worth 40% of your overall mark. Your coursework folder makes up the other 20%.
Progression
This subject is an excellent grounding for undergraduate study and is seen as a strong component of any university or job application. Former students are now working as journalists, actors, teachers, speech-therapists, university academics, police officers and in IT, PR and retail or undertaking further study.
Fees
If you are a UK or home fee status student and aged 16-18 on the 31st August before the start of your course, tuition fees are free. If you are aged 19 and over please contact the Advice Shop.
Latest News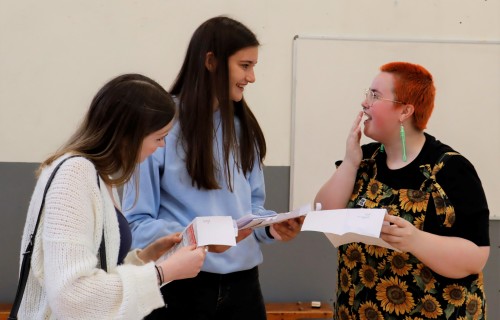 Paston College students have been celebrating impressive results in their A Levels, T Levels and other technical and vocational qualifications.
Read more
17th August 2023