Level
Level 3

Duration
2 years

Start Date
September 2023

Venue
Paston College

Course Code
S9868
Start Date
September 2023, Full Time
Summary
Geography is the study of the world around us and is a very well respected discipline. Geographers seek to understand the relationships between humans and environment; from the decisions needed to make cities more hazard resilient to asking the questions about how we can make society more equal.
This course will give you the opportunity to study a range of contemporary human and physical geography topics which will engage you and help you develop the skills and knowledge to be global citizens and decision makers in a rapidly changing world.This course focuses on allowing you to develop transferable geographical skills.
You will learn about a range of contemporary human and geography issues that are relevant to Norfolk, the UK and the wider world. You will also learn how to plan geographical research and collect, analyse and interpret geographical data. Alongside this, you will enhance your skills by learning how to use modern mapping systems like ArcGIS, and how to ask geographical questions and help find the answers. Topics covered include coasts, plate tectonics, geography of disease, migration, human rights and earths life support systems.
You will have the opportunity to complete local fieldwork on the coast and the water and carbon cycle. You will then be able to choose a subject that interests you for your coursework. Paston College also offers lots of exciting trips further afield with students recently visiting Madagascar, South Africa, China, Iceland and New York. Closer to home students also have the opportunity to take part in the annual Biodiversity Conference in Norwich.
If you are interested in understanding the interactions between man and the environment, enjoy science and the arts and can work independently or as part of a team, then this is the subject for you.
Entry Requirements
3 A Level Programme
Minimum of 2 6/B grades and 3 4/C grades at GCSE. Vocational subjects cannot replace GCSEs for entry to an A Level programme.
English Language GCSE grade 4
Assessment
You will be assessed through non-examined assessments and three written exam papers that focus on physical systems, human interactions, geographical debates and individual geographical investigation.
Progression
Geography opens many doors for young people and is highly regarded by leading universities in science and social science. Geographers are also highly prized in the work-place for their problem solving, communication, research and analytical skills.
Fees
If you are a UK or home fee status student and aged 16-18 on the 31st August before the start of your course, tuition fees are free. If you are aged 19 and over please contact the Advice Shop.
Latest News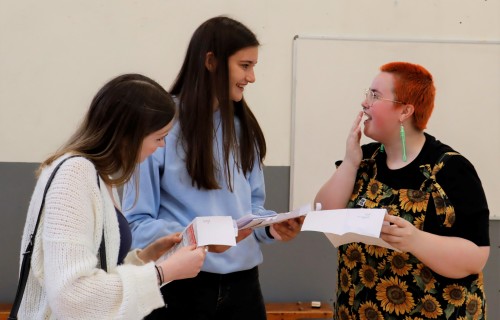 Paston College students have been celebrating impressive results in their A Levels, T Levels and other technical and vocational qualifications.
Read more
17th August 2023