Level
Level 3

Duration
2 years

Start Date
September 2023

Venue
Paston College

Course Code
S9418
Start Date
September 2023, Full Time
Summary
Have you ever wondered who makes the laws? What's the difference between the role of parliament and the judiciary? What happens when a person is called for jury service? How do you protect your rights if you get injured through someone's negligence or are charged with a criminal offence? These questions and many more will be answered when you study law.
You will study four areas of law – the English Legal System and the nature of law, criminal law, the law of tort and contract law. Within each of these areas, you will learn about different offences, civil wrongs and how to assess liability using sources of law such as cases and statutes to support and evidence your arguments. Alongside this, you will learn how to think logically and break down arguments into their component parts which are useful skills for whatever you choose to do in the future. This subject at Paston College is very successful with student results often in the top 10 nationally.
If you are interested in how our legal system works, how to secure convictions, your rights in a number of legal matters (e.g. – when does a noisy neighbour become a nuisance?), can assess given scenarios and have an inquisitive (or argumentative…) mind, then Law could be a great choice for you.
Entry Requirements
3 A Level Programme
Minimum of 2 6/B grades and 3 4/C grades at GCSE. Vocational subjects cannot replace GCSEs for entry to an A Level programme.
Additional entry requirements for this course: English Language GCSE grade 5
Assessment
You will learn through a combination of class teaching, individual and group research activities and presentations. This subject is assessed by three written exam papers that will take place at the end of the course.
Progression
You can progress on to study law at university which is an essential requirement if you want to become a barrister or solicitor. This subject is also useful for anyone looking to work within the probation service, as a legal secretary, in the police force or anything related to the country's legal system.
Career Progression
A career in the legal profession can certainly bring a lot of rewards to one's success.
If you are interested in pursuing a Law Degree, then you're at the right path as doing so can open numerous career opportunities for you in diverse fields like lawyers in public and community sector, judges, barristers, politicians, academics, solicitors in leading law firms, and more.
By pursuing law, you will develop a broad skill set. This will perhaps help you in your future endeavours. The study of law will give you an understanding of legal processes, analysis capabilities, logical reasoning skills, and last but not the least, critical thinking. Apart from that, the study of law can help you in your everyday life at the time you need to sign some legal documents or contracts with complex language and clauses.
The skills and knowledge obtained from studying law give you a higher salary and job security relative to others.
Fees
If you are a UK or home fee status student and aged 16-18 on the 31st August before the start of your course, tuition fees are free. If you are aged 19 and over please contact the Advice Shop.
Latest News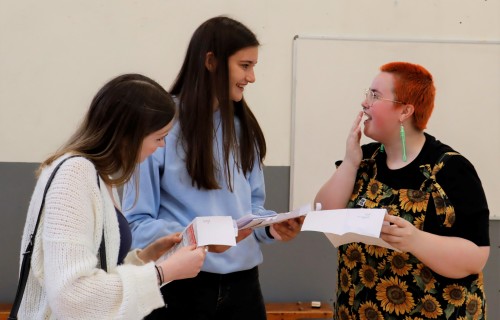 Paston College students have been celebrating impressive results in their A Levels, T Levels and other technical and vocational qualifications.
Read more
17th August 2023