Level
Level 3

Duration
2 years

Start Date
September 2023

Venue
Paston College

Course Code
S0722
Start Date
September 2023, Full Time
Summary
Chemistry looks at how and why substances react together and the use that can be made of this to enhance our lives - from fighting disease to conducting electricity. It is a core science subject that requires descriptive and analytical skills. This two year course gives you an excellent grounding in the three main areas chemistry: physical chemistry, organic chemistry and inorganic chemistry.
As practical work is a key feature of the course, you will be taught in a well-equipped and refurbished specialist laboratory You will cover a range of topics that will help you develop your knowledge and skills in this subject area.
During your first year you will study a variety of topics including atomic structures, oxidation and reduction, patterns and trends of the Periodic Table and organic chemistry.
The second year builds on and develops your knowledge from year one and covers topics such as equilibria and gases, reaction rates and the fundamental laws of energy change.
To help extend your experience beyond the course content, we aim to provide a variety of additional learning experiences. As part of this, you will have the opportunity to attend exciting trips relating to the subject. In recent years these have included visits to an industrial chemistry plant, the Royal Society Summer Science Exhibition, chemistry lectures in London and a Spectroscopy showcase at the University of East Anglia (UEA). Alongside this, there will also be opportunities to attend sessions run by academics from places such as the UEA that will give you a rare opportunity to experiment with new equipment to enhance your skills. Chemistry is a hard subject but very worthwhile if you enjoy the subject and are interested in understanding 'why' and 'how' not just 'what'.
Successful completion of this course will allow you to understand abstract ideas, make connections between different concepts and solve problems. To be successful, you will need to have achieved good GCSE grades in Maths. Biol
Entry Requirements
3 A Level Programme
Minimum of 2 6/B grades and 3 4/C grades at GCSE. Vocational subjects cannot replace GCSEs for entry to an A Level programme.
Additional Entry Requirements:
Grade 6 in GCSE Chemistry or Additional Science and grade 5 in GCSE Maths.
Assessment
During the course, you will be assessed through a variety of practical and theoretical work. Your final grade is determined by your performance in three written exams which take place at the end of the two year course. All papers contain a mixture of short and longer answer questions as well as multiple choice questions.
Progression
Chemistry is an essential subject if you aim to study chemistry, medicine, veterinary science, dentistry or pharmacy at university and extremely useful for the biological sciences. It is also an excellent preparation for an extensive range of scientific and non-science careers.
Fees
If you are a UK or home fee status student and aged 16-18 on the 31st August before the start of your course, tuition fees are free. If you are aged 19 and over please contact the Advice Shop. You will need to provide their own overalls, protective footwear and stationary. Please check our Finance pages for information on loans, bursaries, fee information and student travel offers that are available. Alternatively please contact the Advice Shop .
Latest News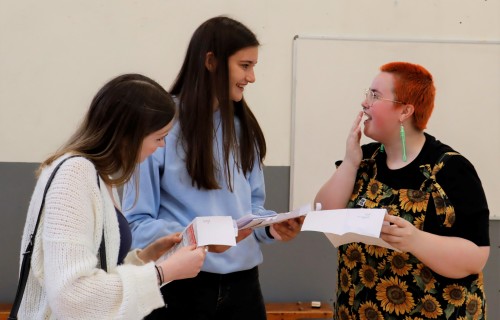 Paston College students have been celebrating impressive results in their A Levels, T Levels and other technical and vocational qualifications.
Read more
17th August 2023