Environmental Science, GCE A Level
Level
Level 3

Duration
2 years

Start Date
September 2023

Venue
Paston College

Course Code
S9417
Start Date
September 2023, Full Time
Summary
You will be taught using contemporary case studies by experienced and enthusiastic teachers you can expect to undertake a range of lab work, debates, research activates and group and individual work.
You will spend the first year studying topics related to living and physical environments. These topics allow you to explore why life exists on earth and develop a deep understanding of biodiversity and ecosystems, such as grasslands and coral reefs and the conservation of these habitats in the UK and abroad. You also study the impact that humans have on the atmosphere.
In the second year, you will learn about the challenges that the Earth's growing population has created. Students examine how we can balance the needs of people for minerals, fuel and food with the environmental impacts this creates. You will discover how technological developments can help humans continue to exploit resources but in a more sustainable way.
You will have the opportunity to take part in up to 4 fieldwork days and a variety of lab experiments. These are taken in the local area and could include day trips to Winterton-on-Sea and the Norfolk Broads to learn about conservation and habitats. There have also been opportunities for students to venture further afield on international expeditions, such as conservation work in South Africa. Closer to home, students have also taken part in the annual Biodiversity Conference in Norwich.
This course is ideal for anyone interested in contemporary environmental issues. If you are excited and optimistic about how new technologies could help us create new solutions to environmental problems and develop more sustainable societies, this is the course for you.
Entry Requirements
3 A Level Programme
Minimum of 2 6/B grades and 3 4/C grades at GCSE. Vocational subjects cannot replace GCSEs for entry to an A Level programme.
Additional Science or Chemistry or Biology GCSE grade 5
and
Maths grade 5
Assessment
This course is assessed through examination only. You will sit two 3 hour exams that include multiple choice questions and extended writing.
Progression
This subject is a great starting point if you are considering a wide range of careers such as; agriculture, economics, environmental law, conservation or environmental management. It is well respected by universities and students go on to study a wide variety of science or social science courses.
Career Progression
Environmental science can lead to a variety of careers including conservation or environmental management or education.
Fees
If you are a UK or home fee status student and aged 16-18 on the 31st August before the start of your course, tuition fees are free. If you are aged 19 and over please contact the Advice Shop.
Latest News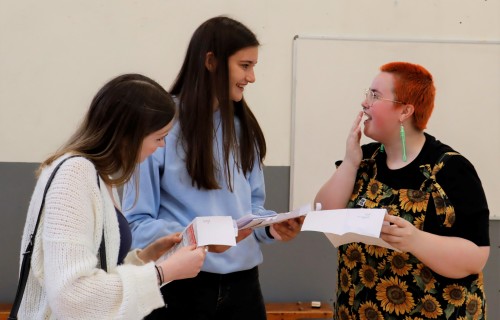 Paston College students have been celebrating impressive results in their A Levels, T Levels and other technical and vocational qualifications.
Read more
17th August 2023