Level
Level 3

Duration
2 years

Start Date
September 2023

Venue
Paston College

Course Code
S9416
Start Date
September 2023, Full Time
Summary
Studying a language beyond GCSE is an excellent opportunity to develop your communication skills. Language lessons are lively, full of variety and classes quickly develop a friendly atmosphere and strong sense of identity. A Level language qualifications are very well regarded by both universities and employers and will look great on your CV.
You will continue to develop your speaking, listening, reading and writing skills through the study of the following areas of interest: being a young person in a French speaking society, understanding the French speaking world, diversity and difference and France during the occupation. In every lesson you will take part in many different activities such as watching or listening to news items, studying written passages and working in small groups on speaking tasks. You will develop a wide range of vocabulary and work systematically on learning new grammar.
During the first year, the aim is to develop your confidence and ability to communicate, particularly when speaking. In the second year, you will complete an in depth study of the work of a French author and a recent French film. We have strong links with the University of East Anglia (UEA) and you will have the chance to work on your speaking skills in small groups with student ambassadors. You will do individual research on a topic of your choice in preparation for your oral exam. This builds up your skills of independent learning and organisation. You will also have the opportunity to attend a range of events outside of college including a Modern Languages Summer School at UEA and 'Taster' sessions for new languages in Cambridge.
If you enjoy learning languages and want to develop your skills to a higher level, A Level French could be a great choice for you. Studying A Level French will also give you an excellent opportunity to learn more about other cultures and the world outside of the UK.
Entry Requirements
3 A Level Programme
Minimum of 2 6/B grades and 3 4/C grades at GCSE. Vocational subjects cannot replace GCSEs for entry to an A Level programme.
French GCSE grade 6 and English Language GCSE grade 4
Assessment
You will be assessed through three exams at the end of the course. There will be an oral exam, a listening, reading and translation paper and an essay paper.
Progression
Many A Level students have gone on to study French on its own or combined with other languages at high ranking universities. Last year our students gained places at Oxford, Cambridge, Warwick and Aston. After university our students have entered a range of careers including in law, education and business.
Fees
If you are a UK or home fee status student and aged 16-18 on the 31st August before the start of your course, tuition fees are free. If you are aged 19 and over please contact the Advice Shop.
Latest News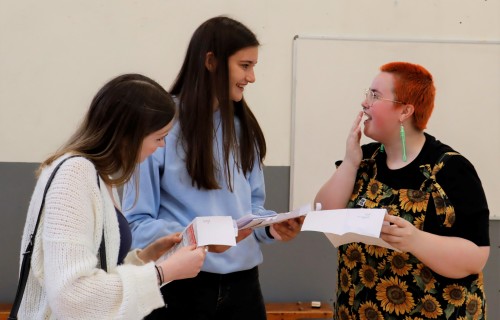 Paston College students have been celebrating impressive results in their A Levels, T Levels and other technical and vocational qualifications.
Read more
17th August 2023