Physical Education, GCE A Level
Level
Level 3

Duration
2 years

Start Date
September 2023

Venue
Paston College

Course Code
S9415
Start Date
September 2023, Full Time
Summary
The most fantastic thing about A Level Physical Education is that it's studied though a range of different contexts and looks at the impact on both ours and other's everyday lives. You will learn the reasons why we do things, why some people out perform others, mentally and physically. You will also delve into the ethical considerations behind the use of drugs and also the influence that modern technology is having in and on physical activity and sport.
Just a few of the topics we cover:
Cardiovascular system during exercise of differing intensities and during recovery - how can we impact our fitness to enhance our performance?
Diet and Nutrition - What impact can our diet have on our sporting performance?
Ethics and deviance in sport - what is cheating and is there such a thing as 'bending' the rules?
Stress and stress management in sport - we all get nervous, but how can it positively impact our performance?
Modern technology in sport - its impact on participation, fair outcomes and entertainment - Is VAR going to ruin football?
Entry Requirements
3 A Level Programme
Minimum of 2 6/B grades and 3 4/C grades at GCSE. Vocational subjects cannot replace GCSEs for entry to an A Level programme.
English Language GCSE grade 4
Assessment
Examined element - 4 hours of exams totalling 70% of the final grade. A combination of single mark, short answer and extended response questions.
Non-examined part - 30% of the final grade - analysis of practical performance, as either a coach or a performer in an activity.
Progression
Physical Education supports a range of study options but has some good overlaps with subjects like Biology, Medical Science, Business and Psychology.
Career Progression
Sports Science, Sports Management, PE Teacher Training and Sports Therapy/Physiotherapy are just a few sports related university courses that our students choose to pursue. Equally, the skills gained and range of content allows PE to support other careers like sports coaching, gym management etc.
Fees
If you are a UK or home fee status student and aged 16-18 on the 31st August before the start of your course, tuition fees are free. If you are aged 19 and over please contact the Advice Shop.
Latest News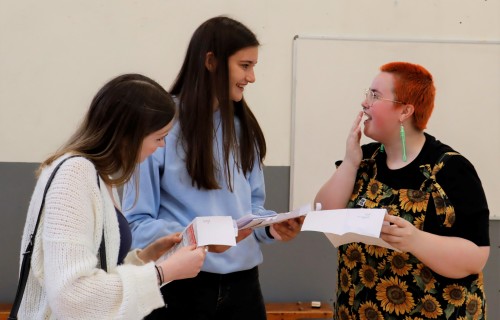 Paston College students have been celebrating impressive results in their A Levels, T Levels and other technical and vocational qualifications.
Read more
17th August 2023