Multi Enterprise students open pop-up café
13th April 2022 – Tags: Inclusive Learning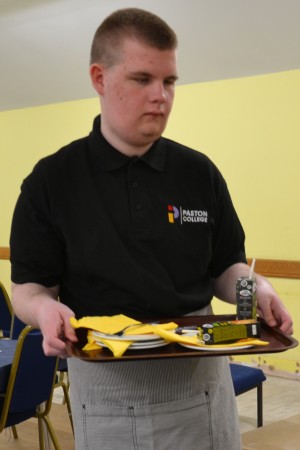 A new pop-up café, run by students from the Multi Enterprise course at Paston College, is providing valuable opportunities for young people to build their confidence, communication, and other employability skills.
The Pop In Café, based in the Parish Hall of the Sacred Heart Catholic Church on Kings Arms Street, North Walsham, opens fortnightly on a Thursday.
It offers somewhere new to go for a warm welcome, hot drinks, and light refreshments - with the added benefit that your custom will support young people with learning difficulties or barriers to employment.
Another distinctive feature of the café is that there aren't fixed prices for the range of hot drinks, cakes, and light refreshments on offer, with customers instead being invited to pay what they can afford.
The initiative has been made possible thanks to the support of North Walsham Community Fund, which helped in meeting the costs of equipment, and of the Sacred Heart in providing the venue.
All monies raised from the café will go towards extra-curricular learning activities for the group and other good causes – with £100 already having been donated to British Red Cross's Ukraine Crisis Appeal.
Building on the social and community ethos of the pop-up café, staff from the college are keen to make it a friendly and welcoming place for anyone who feels lonely or in need of companionship.
Kate Shulver, from Paston College's Inclusive Learning team, says:
The idea behind the Pop In Café is to provide an opportunity for our students to develop their confidence, independence, and the skills needed in the workplace such as communicating with customers.

Our students really enjoy getting out of the classroom and meeting new people. We can't wait to serve our customers on the remaining dates we are open through until the summer."
The Pop-In Café will be opening on the following dates and times:
Thursday 28 April, 10.00-11.30am
Thursday 12 May, 10.00-11.30am
Thursday 26 May, 10.00-11.30am
Thursday 9 June, 10.00-11.30am