Art and Design students learn what it takes to make it as a shoe designer
7th October 2022 – Tags: Art & Design
Our BTEC Art and Design students were given a fascinating and inspiring insight into shoe design, when former student Emily Linnell returned to Paston College.
Emily is enjoying her hugely creative, varied, and rewarding role as a Footwear Designer for Norwich-based Start-Rite Shoes.
The former Broadland High student studied a BTEC in Art at Paston from 2007 to 2009, before going on to study Cordwainers Footwear: Product Design and Development at the London College of Fashion.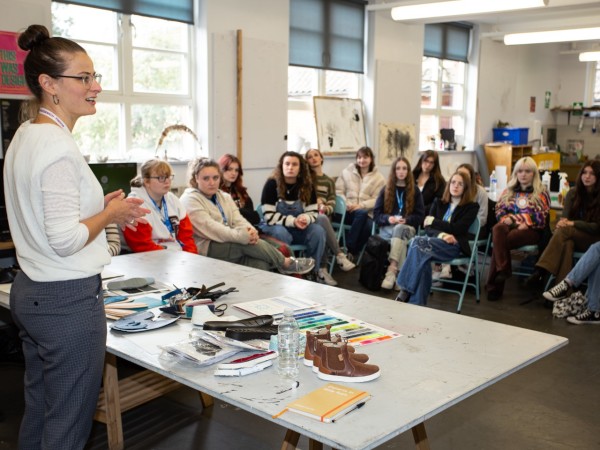 In her talk to our students, Emily outlined what is involved in the work of a shoe designer. This includes travelling extensively, sourcing materials, and checking on production in factories in The Far East.
Emily also stressed the importance of gaining relevant work experience. Having a strong portfolio and industry experience was key to her securing her position with Start-Rite.
In an insightful blog about her work, Emily says:
Each day my job brings something different. There's so much more to a designer's role than just 'designing'. One day I'll be researching trends and creating mood boards or writing up product specifications, other days I'll be painting in watercolours for a new print or working with the Technical Team amending pattern pieces. I love multi-tasking in my role, it keeps things fun and interesting."
Following the visit, Art and Design Teacher Matt Phelps commented:
It was fascinating to hear Emily explain the design process, from initial concept drawings through to testing materials, to manufacture, and marketing.

She described how inspiration for colours and patterns can be found when you are least expecting it - but with a phone at hand you can capture that colour on a shop front, or that interesting pattern on a bicycle wheel, and incorporate it into the pattern for a sole.

Our thanks to Emily for taking the time to visit and giving our students such a brilliant example of what studying a creative subject can lead on to."