Back to college: a message from the Principal
23rd February 2021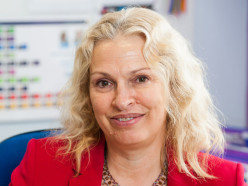 As you will have seen on the news, from Monday 8 March all 16 to 18 year old students will be able to attend college for face-to-face teaching and learning. We'll be in touch soon with details of the day when your course will return to learning on campus. For students aged 19 and over we'll be delivering a balance of on-site and remote teaching and we'll be in touch soon with details.
I'm pleased that we're able to take the first steps on the road to a normal student experience but it is more vital than ever that we all stick to the rules and follow the guidance. Details on what control measures we will have in place are still being confirmed – they will probably be the same as last term but with additional restrictions. For example, we will be wearing face-masks at all times indoors, including in classrooms.
We now have Covid testing facilities available at college for students and staff who do not have any symptoms. Testing is an important part of keeping safe and we hope you will choose to get tested. We'll let you know soon about how the process works and when you will get your tests.
Most importantly of all, if you or anyone in your household has Covid-19 symptoms you must stay at home, get tested and keep isolated for at least 10 days from when you first notice the symptoms. If you have symptoms or get a positive test result let us know by emailing covidresponse@ccn.ac.uk.
Please remember that you are not returning to college in normal circumstances. You won't be able to socialise with your friends and you won't be able to use campus facilities as you normally would. However, if we all stick to the rules carefully and conscientiously the control measures will be loosened over time, following government guidance.
Hopefully by the summer we will be able to approach a normal campus experience for everyone. But we can only get there if all of us do the right thing now. Thank you for your patience and I look forward to seeing students back on campus soon.
Corrienne Peasgood OBE
Principal