Welcome to summer term: a message from the Principal
7th April 2021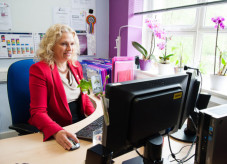 Dear Student/Apprentice,
As I sit here writing about the Summer Term it is snowing; just another one of those unpredictable things that 2021 is throwing at us!
I'm really pleased that from Monday 12 April 12 the vast majority of our students and apprentices will be returning to face to face learning at college. Whilst some programmes will continue to use online learning to support your progress, I hope that the summer term will see a gradual return to a more normal College experience for most.
Many of you will have come to College for the weeks immediately before the Easter break, but others may be returning for the first time since Christmas. This includes students and apprentices who were Clinically Extremely Vulnerable (CEV) who can now return to campus as shielding has ended. So this is a good moment remind everyone of the key ways in which you should keep yourself and other safe onsite from Monday 12 April onwards:
You must not come to college if you have COVID-19 symptoms;
You should maintain 2m social distance from other students at all times when outside your curriculum bubble. This includes in café spaces, corridors and areas such as smoking shelters, bus stops etc.;
You should minimise the number of contacts you have with other people. Keeping contacts to a minimum reduces the risk of spreading COVID-19;
You must wear a face covering at all times when indoors including in classrooms and workshops, and in some circumstances e.g. Easton bus queues when outdoors;
We will be continuing to ensure that every classroom and workshop is well ventilated, keeping doors and windows open as we did at the start of the autumn term.  This should be easier now that the weather is getting a little warmer, but you should dress in a way that means you are comfortable in class;
Each curriculum area has been allocated a specific eating outlet as in the autumn term and you must only use your allocated outlet;
You must continue hand washing and sanitising more often than usual;
Please remember to wipe down your work areas at the beginning and end of lessons; and,
You should test yourself for COVID-19 twice a week at home with the home testing kits you have been issued with and inform us of the results here. (If you have not yet received your home test kits you will be able to collect them once you return to site).
Please ensure that you do an LFD home test the evening before you return to College after the Easter break.
Further updates
Please continue to check the College social media and our website to keep up to date with any changes we need to make in response to any Government advice. We will continue to keep you up to date with any developments. In the meantime, please stay safe.
With very best wishes,
Corrienne Peasgood OBE
Principal